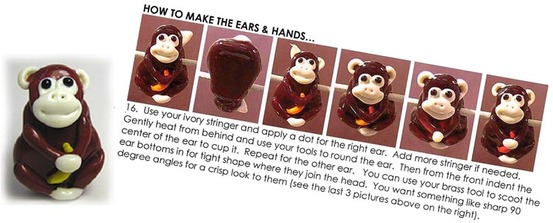 How about ONE huge Workbook that shows you how to make all of these Critter Beads? You are free to make these Cuties to sell as is, or change them up a bit for your own look.

This is a VERY detailed Tutorial Workbook that includes all the steps and pictures needed to make each of these Critters, plus one Sweet-Heart Bead. The printed out Workbook size is 8-1/2" x 11" and is 85 pages long. You will receive this Workbook as a PDF that you can print out or use on your computer or tablet.

The tutorials will clearly show and tell you how to make each Critter shown. You will learn how to make each different little face and the many types of legs, feet and details you see on each one. With this reference manual you can design your own Critters if you choose. Every step has MANY pictures, and simple, clear text. You can see three examples of steps - for Dink the Dino, Mookie the Monkey and Blue the Dog above.

The skill level is from beginner to advanced. If you work on a Hothead or a surface-mix torch you can use these tutorials. And you can advance your Critter-making skills as you make them in order, from easiest to most challenging if you like.

The Critters and Heart have the mandrel in the sideways position to offer the easiest shaping of heads, faces and details. Once you understand how they are assembled you can rework them to have the mandrel in the upright position if you prefer. The Workbook also includes many basic lampworking tips, plus information on pulling stringers in and out of the flame.

This big Workbook doesn't cut corners, it is 85 pages long. This is a fabulous collection if you have ever wanted a Critter tutorial. It will give you years of pleasure as you come back to it again and again.

Please email if you have any questions. I'm happy to help where I can.
Please click on the link below to order this huge PDF Workbook.
It's for sale in my Etsy Shop.
​
CRITTER TUTORIAL WORKBOOKThe price is only $15 for the entire Workbook!
...